Review
Outsmarting the High Street
Well ladies – Autumn if well and truly in the air, and we all know what that means… time to hit the shops to buy a new season's wardrobe!!! But before you do, I've got some top tips for you on how to get the most fash for your cash (that's 'fashion', not 'fish' in scots…).
So why should you listen to my witterings? Well – because I'm a self-confessed, bona fide, experienced, life-long, professional shopaholic. When I was little my favourite toys were a pink trolley and a Tesco carrier bag (suffocation-avoidance holes cut into the bottom by my despairing mother who just wanted me to play with an a la carte kitchen).
As I grew up I'd save all my hard-earned cash and get the train to Wigan on a Saturday so I could go to Bay Trading to buy the tartan trousers / dungaree dress / satin shirt I'd be coveting for ages (sidenote: that would've been funny a year or two ago – now it pretty much describes the high street in Spring / Summer 2018…). Then I started working in the world of fast moving consumer goods and somehow wangled myself into becoming a shopper expert – for a while I had the word 'shopper' in my job title. LIFE GOALS, right there.
And these days… Well, suffice to say I'm on first name terms with all the online shopping delivery folk, and the lovely man at the Post Office, and the ones at the Collect Plus garage, and if I went on Mastermind my speciality subject would almost certainly be 'the names of Topshop's jeans 2010- 2018' or 'Best Whistles sale purchases 2012-present day'. So, you see, I really am a pro at this.
Now, I'm not about to tell you to collect your Clubcard coupons / cut things out of newspapers / look down the back of the sofa for loose change. This isn't about being tight or scrimping and saving, more how to save WHILE you shop, and how to out-smart the big players of the high street to make your shopping budget stretch as far as possible. I hope you find it useful!
1. Be diligent about discount codes
Lots of shops these days have got sucked into the discount code phenomenon. I mean, anyone that buys anything from Gap at full price needs to have a stern word with themselves as they head to Pizza Express for a full price pizza, right?! The first rule here is to always ALWAYS search for a discount code before you make a purchase, whether in-store or shopping online. You might find nothing, but you just might. It could be free P&P, but many retailers now do anything from 15% to 30% off their entire range. There are loads of websites that collate the best codes, but there are lots of scam ones out there too. The best in my opinion are Voucher Codes, Voucher Cloud and Money Saving Expert.
The more advanced shoppers among you can take it one step further and predict when they're coming. It's really pretty simple. If a shop has a discount promotion on for a certain week one year, chances are they'll replicate it the same week the following year because they'll have to trade over the sales hump. Whistles, for example, always tie their code in with my birthday (which also happens to coincide with London Fashion Week, but I'm certain it's my birthday that drives it…no?!).
If you don't fancy keeping a diary tracking discount dates (erm, is that weird?!) then just google to see dates of discount codes in previous years. At Christmas, Money Saving Expert does a Christmas deal predictor where it bases it on previous years, and it's pretty accurate, although I'm still a bit miffed as I thought I invented this idea…
Some stores never do discounts (Next, Topshop, Reiss), but most do at least a couple of times a year, and department stores like House of Fraser often do brand events when the 'parent' brand isn't on offer – so they might have discounts on French Connection / Whistles / Oasis etc even when those individual stores don't – which means there are actually quite a few discount periods for most stores in a year.
Oh, and a final tip here – discount weeks are normally the retailer's way of driving their sales up before they have a sale – so beware of buying anything that's likely to go into the sale. Which leads us on nicely to…
2. Savvy sale shopping
Pretty much all shops will have a sale in January (or, more accurately, mid December, normally they start the very moment I finish my Xmas shopping *eyeroll*), April and September. All stores tend to start their sales within a 2-3 week period, with the big names like M&S and Next normally being a good signaller that sale season is upon us.
The reason they have these sales is to clear out old season stock, so chances are if there's a polo neck you love in September, it's not likely to go in the sale – whereas a bikini will. So if you are after something that feels like it'll be unseasonal soon, or if you know it has been being sold for ages and you can wait to buy it, then do. If you want to be first to know when the sale starts, then sign up to the store's newsletter on their website. Often this will mean you also get an exclusive sale access period with access to the best bargains, so if there's a store you love then it's worth doing.
We all know that there's nothing more annoying than seeing something in the sale then not being able to get it in your size. But there are a few things you can do here. Firstly, call head office and ask them to tell you stores where it's available – often you can purchase over the phone and you're protected by the Distance Selling Act which means you're still able to return, even if you wouldn't be in-store. It's also always worth searching online for an item, as many brands are stocked in multiple retailers. So for example, Warehouse can also be found at John Lewis, House of Fraser, Debenhams, Selfridges, ASOS and Next. Often you'll be more likely to find the size you want here.
Sometimes when you buy something in-store in the sale, you can only then exchange it, so if (like me) you're indecisive and need to try things on at home, in-situ, then look to buy online in the first instance as you can always then get your money back.
Finally, don't be sucked in by a low price. My wardrobe is full of things I never wear but couldn't resist because 'IT WAS ONLY £17 FOR THIS CROPPED COW PRINT JACKET!'. Ask yourself, would you have even considered paying full price for it – if the answer is no, then you probably don't REALLY love it… save the cash and put it towards something you really love instead.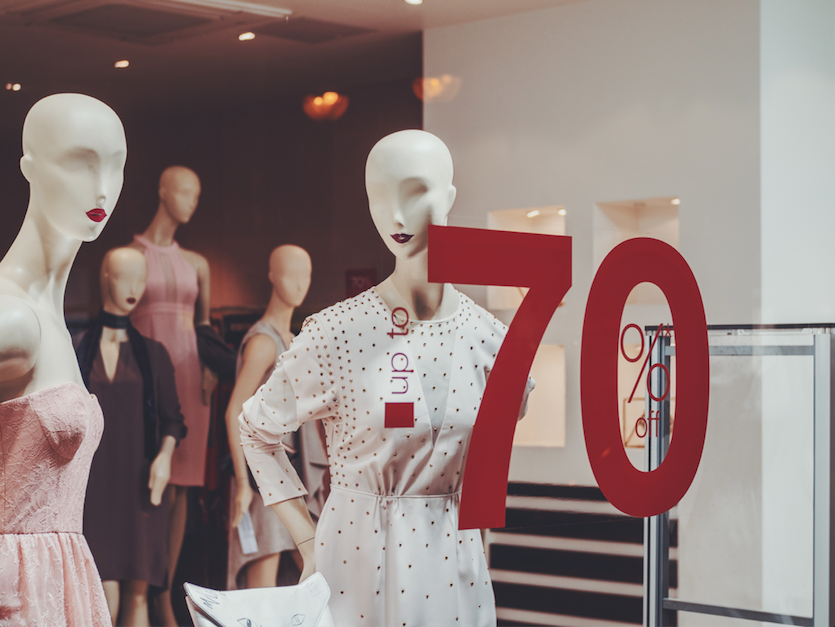 3. John Lewis joy
Many of you might be aware that John Lewis will offer a price match if you can find an item cheaper on the high street. Just talk to staff in-store, or fill out a price match form online before you buy and, if it's valid, they'll send you a code to use online. This means that when a retailer like Whistles does their bi-annual 20%, John Lewis will match it. It also means that when House of Fraser does a brand event, you'll get the discount at JL as well. John Lewis pride themselves on this policy, so don't feel bad about asking. I saved £100 on a laptop by doIng a quick search while in the store, about to buy, and finding that Argos had a promotion on that day – and they couldn't have been happier to give me the discount.
What you might not be aware of (and this is my fave tip of all) is that John Lewis actually honour the price guarantee for 28 days AFTER you've purchased from them. So, say you buy something and then 3 weeks later it goes in the sale, or there's a 20% off promotion, then you can claim back the difference, again by either speaking to staff in-store with your proof of purchase, or filling in a form online. This policy means that if I have the choice to buy from JL or elsewhere, then I will always choose them, so it does work for them – plus they do a nice scone too.
4. Claim that cash-back
I was a bit late to the party here, but this is basically free money – so definitely worth doing. There are a few websites out there offering cashback services. The way it works is that if you access your favourite online retailer via one of these websites, then they give you a % of cashback. They get their money by driving traffic to the retailers. The best known (and therefore the one with the best offers) is www.Quidco.com – you simply sign up, search for the retailer you're buying from, click through to their website and your cashback will track and go onto your Quidco account, which you can then transfer to you paypal or bank account. Not all retailers are on there and the deals change over time, but a quick look shows that today you get up to 10% on ASOS, 7% at Monsoon, 5% M&S, 3% Debenhams. So it really is worth it!
5. Loyalty card love
This is a funny one, as the rewards you get from loyalty cards differ massively shop by shop. Some offer very little, some offer more – but do bear in mind that the reason shops have these is so that they can track your purchases to learn more about you (trust me, I've been that person analysing your Tesco beer purchasing habits… #nerd).
Personally, I have a House of Fraser reward card, as occasionally you get 10% extra off for doing nothing, and a John Lewis card (because you get a free scone every month and frankly, I'd happily give away all my personal information in return for that). I have also recently signed up for the H&M reward scheme where you 'earn' different discounts depending on what you spend – it's a bit of a faff but worth it if you shop there. I know lots of people love their M&S Sparks card, but I just rely on my mum's friends and family voucher.
Whatever you choose, make sure you know what the deal is so that you can use it wisely – and be VERY careful to spot if it's actually a store credit card as these are a VERY different thing!
6. Rocking a refund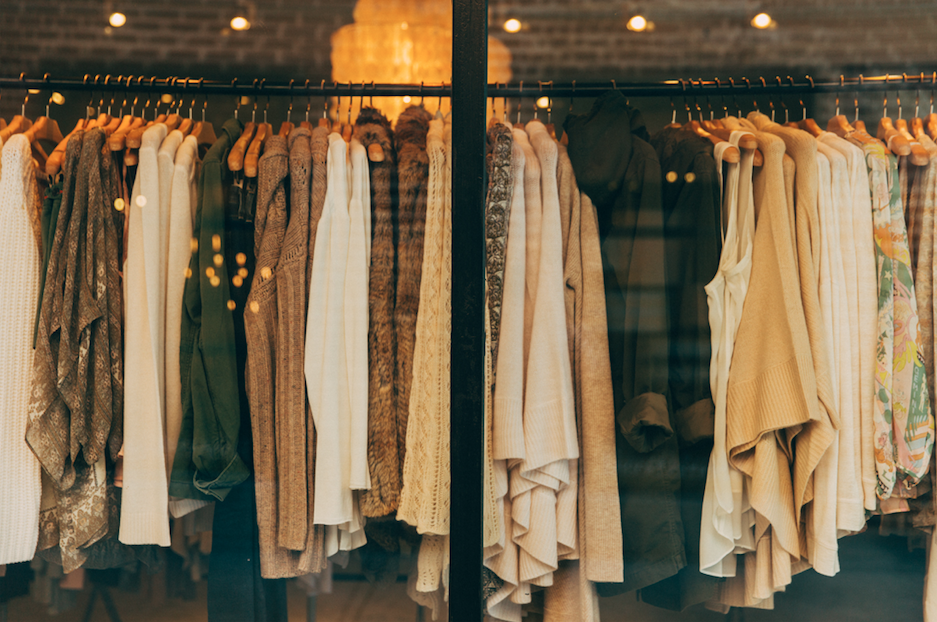 We've all done it – you go shopping, you absolutely love something in the shop, then you get it home and you think it's the most hideous thing you've ever seen. Right?! Most retailers will give you between 14 and 35 days for a full refund assuming it's unworn with all labels in-tact, but make sure you know their policy beforehand though, as some only offer an exchange, especially on sale purchases.
Not wanting to sound like PR for John Lewis, but their refund policy (35 days) is more than twice as long as House of Fraser (14 days) so I'd buy from there if you have the choice and you're not able to get back to town easily. It's also so easy these days to return things online (through the post office, courier, collect plus) that often even if you see something physically in-store, if you're not 100% sure then buy it online and you can then return it without having to go back to the shop.
7. Postage pains
With so many online shops now offering free postage it can be really annoying when you have to pay. I have been known to buy something twice, just so that I get over the free-delivery threshold, and (assuming returns are free) then sending back one. But to be honest that takes time and dedication that few of us have.
If you buy a lot from one online retailer, see if they have an annual postage subscription which you pay once to get free delivery all year. You can also often now get things delivered to a store to click and collect, and that can be a great option too if you're heading into town anyway. But beware, as I sometimes do that to save my £3.99, and then spend almost as much getting into town / on parking, and then (knowing me) end up buying something else while I'm in the shop, so my 'saving' somewhat backfires.
These days I tend to think that actually, the fact that my stuff gets picked, packaged, posted, transported and then delivered to me, without me so much as having to rouse myself off the sofa is, after all, probably worth a few quid.
8. Acing the airport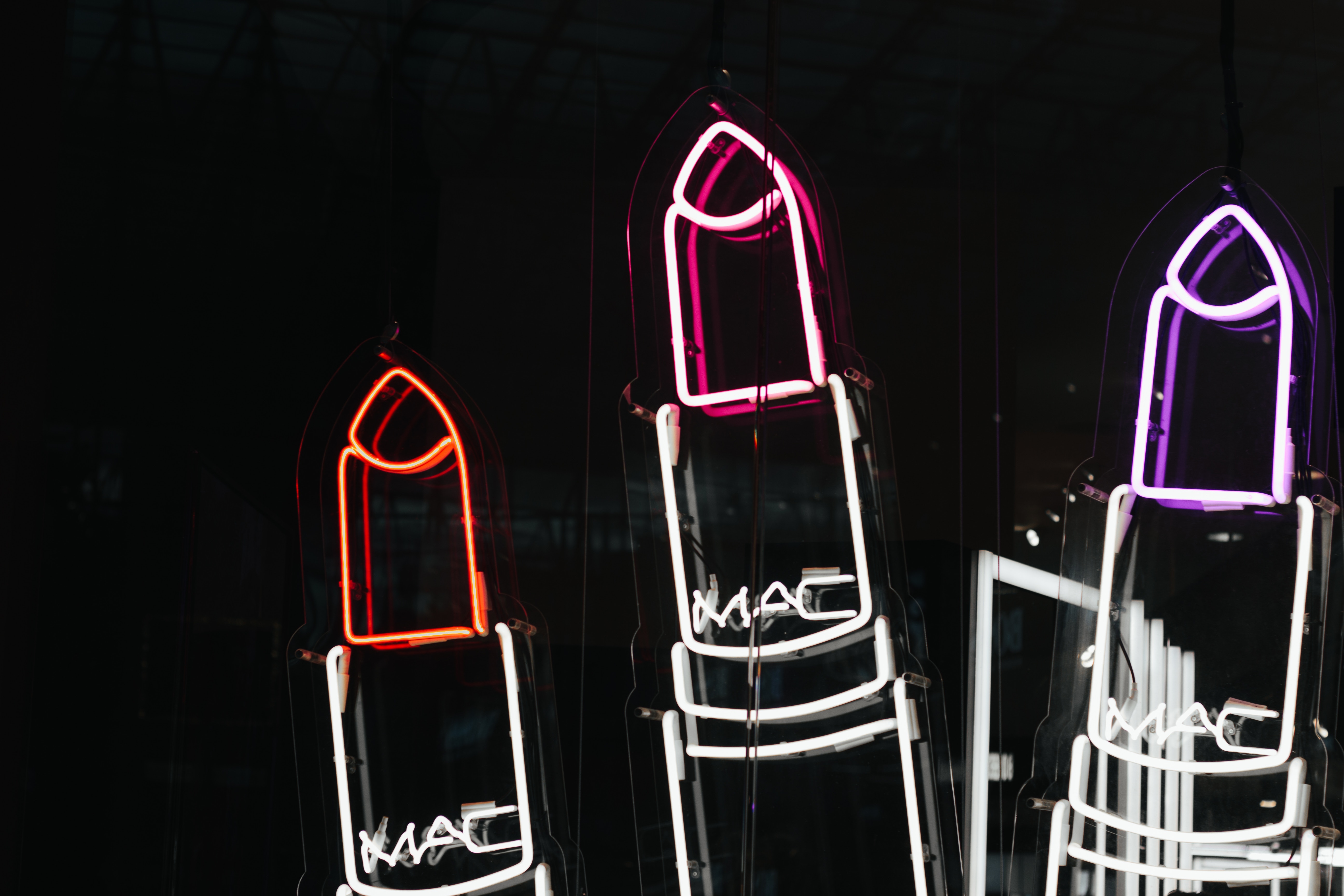 We all know that money spent in airports doesn't really count, right?! That's why I have 27 MAC lipsticks in almost identical shades… ahem. Sadly, I need to break it to you that it actually is real money – however airports can be a great place to buy something if you plan ahead, because most airport shops will sell things VAT free which means you can save 20% on the high street price. This could mean you save a couple of quid on some earrings from Accessorise, but if you go to some of the bigger airports you can be talking bigger savings on brands like Mulberry, Reiss, All Saints, Kurt Geiger, Dune depending on the airport. I *might* have been known to fly into specific London airports because I wanted something from a particular shop… but I'm not saying I recommend that (well, not unless you're as dedicated as me, anyway…).
So, there you have it; my tips to out-smart the high street. I'd love to know if you've got any more. In the meantime, happy shopping!
EGG Membership Card Illustration
Join EGG Today
Become a member of EGG Glasgow and enjoy a heap of exclusive benefits. You'll get access to Exclusive Offers, Events and your very own Digital Membership Card –  use it to discover great places in Glasgow and connect with like-minded girls.
Pay Annually
---
£30
per year
Sign Up Now »